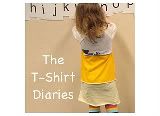 This whole month has been crazy for me. More of that later because I would like to feature a self-proclaimed "
crazy crafting momma" Robin! Okay, not crazy, crazy (oh you know what I mean), but she's been extremely busy these past few weeks with her contest called
"Project Recycled" where fellow bloggers compete for six weeks in a series of competitions to see who can come up with the most creative upcycled/recycled clothing. We get to cast our votes (think American Idol-style) and now she's going to start casting for season two really soon, so keep an eye on her blog :-)
Recycling and making children's clothing is one of Robin's passions.
She was inspired by some amazing upcyclers like the designs of Little Blue Boo, Poor Pitiful Pearl, and Soren Lorenson Designs. Robin says "Really just seeing the amazing things these women are making out of old t-shirts and sheets make me drool." I think I'm going to hop over and check those designs out.
Robin's favourites are the headbands that she makes out of old pieces of scrap fabric:
So where does Robin get her inspiration? Pinterest ! She also loves other blogs, and she says her two little ones, Phoebe and Holden, inspire her too. Sometimes she can just come up with something random out of thin air - the light bulb moment! Robin has an interesting post on 10 Simple Ways to Upcycle if you need that light bulb moment too.